Alabama Senior defensive end, Quinton Dial will not miss his final college football game after his illegal viscous hit on Georgia quarterback, Aaron Murray in the SEC championship game.
Dial said that he was shocked by how the hometown crowd reacted the way they did to the hit. After he saw the film he gave in and said "it looked like it hurt(Murray)." Defensive end Ed Stinson said " I'm glad (the SEC) didn't take it the wrong way, I don't think he meant any harm."
I believe by rule that the hit deserved a suspension. There is a rule that says that you can't hit a defenseless player above the shoulders. I believe that the call was missed by the officials and he should have gotten a penalized for his actions.
On Saturday Dial said "I was just looking for someone to block, I am very relieved to play in the game since it's my last college football game."
Do you think that the hit deserved a suspension? Post in the comments!
Aaron Murray after Dial's hit.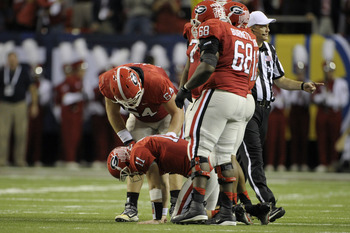 By David B.