The Bengals are one of this years wild card teams, but don't count them out. Because last year the New York Giants made the play-offs on the wild card and they won the Super Bowl. And everything I said before is true, but I believe that the Texans are just to are just to good of a team to lose first round. Especially after their amazing 12-4 season. The Bengals only won 10 games this season which was barely enough for the play-offs.
Last year the Bengals made the play-offs against the Texans, but quarterback Andy Dalton choked and threw 3 interceptions leading the Bengals to a first round loss. This year Dalton is hoping to do the opposite after a 3669 yard season. Running Back BenJarvus Green-Ellis ran for over 1,000 yards this season and I think he can put up good numbers in this game. But the player with the largest impact on this Bengals team is Wide-Receiver A.J Green. Green had 1350 receiving yards for 11 touchdowns.
The team that I believe will be coming out on top the Houston Texans will be hosting the Bengals. So with this home field advantage I believe it just adds onto the list of reasons that the Texans have the edge. The first and most important is their running back Arian Foster who I have ranked at number 3 on my list of NFL running backs
Top 3 NFL running backs
. If wide receiver Andre Johnson has anything to do with it then I believe that the Texans will have a large advantage. Johnson has racked up 1598 yards on 112 receptions. The Texans defense has improved with J.J Watt getting
20.5 SACKS,
4 forced fumbles, and 69 tackles at Defensive End.
Watch out Cincinnati here comes Houston!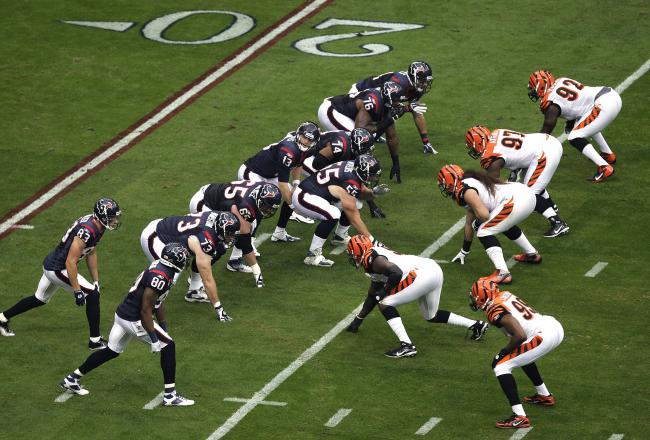 By David B.